About The Trail Center
The Trail Center of Charleston, Incorporated was founded in October 1966 by Mr. Fred Curtis, an USAF pilot who had a vision of Low country families spending quality time together outdoors, telling stories around an open campfire. Sleeping under the stars in his own Wolverine truck camper validated this passion and Mr. Curtis was sure this was an idea he wanted to share.
In the early years, inventory consisted of numerous brands of pop-up campers, travel trailers, truck campers, fifth wheels and motor homes, as well as several types of tents and canoes.
The Early Trail Center Years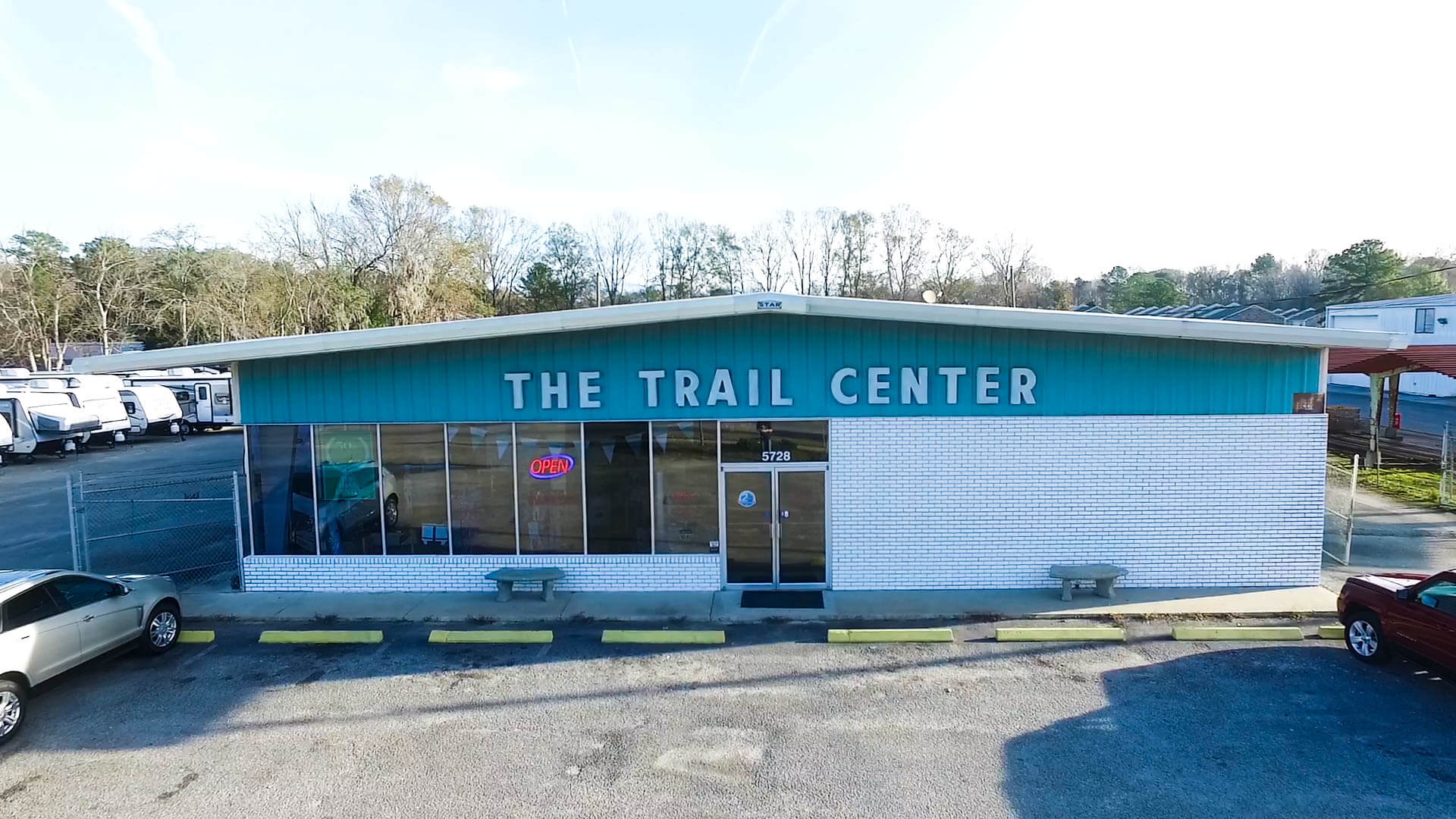 By 1973 business was flourishing. It was then that Mr. Curtis hired a short, intelligent and wide eyed Yankee from the state of Rhode Island, Gloria Morgan. Originally hired as a primary bookkeeper, Gloria suddenly realized that she also had a strong interest in the camping business and while exceeding her own expectations, found she wanted to learn more. Being a devoted wife and mother of two young boys, Gloria pushed herself outside the boundaries of not only bookkeeping, but at the encouragement of Mr. Curtis, became more involved in the day-to-day operation of parts and sales.
During the next twenty years, Mr. Curtis and Mrs. Morgan teamed up to bring unmatched customer service to the camping industry. In 1993, with Mr. Curtis' health failing due to cancer, he offered to sell The Trail Center – but only to Gloria. After much research, Gloria found herself wanting to take on the challenge of carrying on Fred's vision and ultimately purchased The Trail Center. Immediately, she became one of a handful of women owners within the RV industry. A Founding Member of RVDA, Gloria has become a staple in the RV industry. Under her guidance, The Trail Center has survived under different economies and has thrived among other competitors in the area.
The first exclusive dealer for the Jayco Brand
Gloria has worked with many manufacturers of RV's, but it was decided in the early 2000's that The Trail Center would become an exclusive dealer for the Jayco Brand of towable RV's. When Gloria is not in the office she can be found at numerous vendor shows and RV meetings. Not only has Gloria been the reliable source for The Trail Center and the customers she serves, she also is the rock for her family. She has been married to her husband, Dewitt Morgan, for 47 years and has an amazing family that she loves dearly. Her eldest son, Dee, is a Colonel in the Air Force. Gloria's son, Jay, has joined the Trail Center as her Sales Manager. When not at the office or attending RV events, Gloria enjoys more than anything, having her five grandchildren, Hunter, Pierce, Emma, Jack and Londyn by her side. Mrs. Morgan still wakes up every Monday thru Saturday with the same passion and enthusiasm for The Trail Center as she did in 1973.